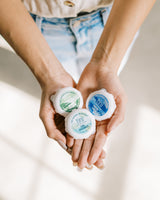 all natural deodorants so you smell fresh
anywhere, anytime...
at home or on the go...
tini all natural deodorant is with you.
do more with less
Testimonials
I've been looking for an all-natural deodorant for years and I've finally found one that works... and it fits in the pocket of my skinny jeans :).

Tara L.
This might be the coolest packaging innovation I've seen in my entire personal care career.

Industry Exec
I apply in the morning, feel fresh and smell great all day.  If I want to reapply I love knowing that my deodorant is in my pocket.

Darren K.